Video Robot software is a next-generation video technology loaded with features that are miles ahead of any other video app in the market today!
Create 3D Avatar Videos, Kinetic Animation Videos, Whiteboard Videos, Sales Videos, Explainer Videos, Live Action Videos, Presentations and a whole lot more with this software.
Customers get access to high quality '3D Avatar Video Templates', 'Kinetic Video Templates'and 'Whiteboard Video Templates' in the HOTTEST niches. These templates come with professional male/female voiceovers.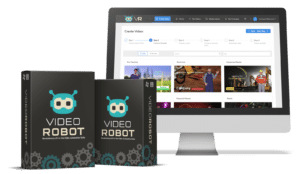 You can personalize every element including logos, images, backgrounds, audio and more to create stunning videos in minutes!
Translate your sales scripts into any language with ONE CLICK. Then within seconds convert it into life-like audio using our world's best Text-to-Speech engine!
Your audio and voice instantly syncs with the 3D avatars in the app in real-time (within seconds) to create professional and engaging videos with no camera, mic or any additional software…
Customers can now create videos in ANY style using the blank video canvas Without relying on templates using the all NEW never-seen-before BLANK video canvas. Users can utilize the library of inbuilt text effects, motion animations, intros, outros, and a lot more to create ANY style of video in any language effortlessly!
Customers can upload any image or video background behind the logo openers to create unique and stunning 'Live Action Videos' in 30 seconds or less.
Video Robot software features:
– 300 Ready-Made Video Templates: Choose From The Hottest Niches With SMART Automation & Customization Tools…
– Flexible Blank Video Canvas: Design CUSTOM 3D Explainer, Whiteboard, Kinetic Animation, Live Action & Sales Videos From Scratch!
– Maximize Reach & Engagement: Award Winning Text-To-Speech With ONE-CLICK Translation To Convert Global Audiences!
– Commercial License Included: Make UNLIMITED Videos For Your Own Use OR Sell To Clients…
Effortlessly Create Videos In Multiple Formats … Live Action, Whiteboard Animation, 3D Avatar, Presentations & Explainer Videos, Kinetic Motion, Sales.
Includes Dazzling Special Effects To Grab Attention … Powerful Logo Openers & Intros, Next Generation Transitions, Multiple Eye-Catching Text Effects, Compelling Call-to-Action Outros, Dynamic Animations, Stop Motion Effects.

Effortlessly Create ANY Type Of Video For ANY Campaign With Just ONE Platform. Wave goodbye to juggling 12 different software … Needing a 5 figure monthly budget and/or a degree in rocket science to create the custom videos your business & clients demand.
CAPTIVATE With Stunning 3D Avatars: Choose From Over 100 3D Avatar Explainer Video Templates
Instantly sync YOUR audio or script to the avatars with real time lip-sync technology… even AUTO-TRANSLATE into any language & choose from over 50 life-like text-to-speech voices and accents!
MAXIMIZE Engagement With Over 100 Dynamic Kinetic Motion Templates.
Showcase stunning graphics & motion animations to compel viewers to take action resulting in MORE leads and sales!
Keep Viewers GLUED To The Screen: Choose From Over 100 Whiteboard Animation Video Templates. These slick whiteboard animations are PROVEN to increase view time, engagement, and clicks!
Mind Blowing Live Action Videos, Intros, & Logo Reveals …
Choose from a fully stocked library of eye-popping animated intros and logo reveals. For the first time ever, you can now customize the background instead of using fixed and boring backgrounds like those offered in other video apps!
Exciting, Entertaining & Creative
Text Effects & Motion Animations, For All Your Videos … Change text, colors, customize everything to elevate your videos and crush your competition!
This unique CUSTOM video creation platform puts you in 100% control.
Pull from the full library of text effects, logo intros, animations and more …
Instantly integrate them with images & videos of your choice.
For a 100% custom video that speaks DIRECTLY to your audience.
The only limit is your imagination.